....................
Latest News
Watercolour Demonstration by Bob Harris February 2017
On Monday the 13th Feb 2017, Ashby Art Club had the pleasure of watching a demonstration presented to us by club member Bob Harris. Bob was working from a picture of St Martins in the Field taken in the early sixties, long before traffic free zones and parking meters and what about those old fashioned cars, a lot of us remembered them and some had owned one.
Scene set...... Bob had a big task to complete in less than two hours and even he recognised he had set himself a race against time but one he was confident he could meet.

We were entertained by seeing the early washes go on and the scene begin to emerge in its early form. It was wonderful to see the dark shades go on the painting and how they created shapes and perspectives even with just one or two lines or a brush stroke here and there. At times you could have heard a pin drop and Bob had to keep checking that his audience were still there. At other times there was an amusing banter between members and Bob, talking about how different the scene would be now.

Bob worked accurately but fast, he told us he likes to work fast specially if working outside, he explained that the light on scenes is always changing and to capture the reality of the scene it is essential to work quickly. Not only had Bob set himself a big task but he was also working at a more acute angle, than he would normally do, to ensure we all had a good view of his painting.

Bob kept painting through the coffee break and even with the distractions of lots of the members going up to have a closer look at his work, he kept going and the scene was emerging before our eyes. We all settled down for the second half of the evening when Bob started to fill in the detail of the cars, buses, people and finally the trees and bushes. At dead on nine o'clock Bob put a mount on the painting and declared it finished, to a hearty round of applause from a very appreciative audience.

A number of us were captivated by the speed and ease at which Bob can work and we have asked him if later in the year he might come and do a workshop for us, to give us guidance and instruction on his techniques .


Thanks Bob, you gave us a very entertaining demonstration which we thoroughly enjoyed.
Chairman's Art News, 12 January 2017
1. Change to the programme of demonstrators, Bob Harris will be doing a city scape on 13/2/17 and Andrew Geeson will be doing wet into wet on 8/5/17.
2.This year's raffle picture is to be a selection of 'doors'. I have included here an image of doors to get your imaginations working. Maureen has the squares of paper, so collect one from her asap as Peter Chadwick would like the finished pictures to him by the beginning of March so he can mount and frame the picture. This little project usually raises a reasonable sum of money, which we donate to our chosen charity, the Air Ambulance this year, so please join in and get painting.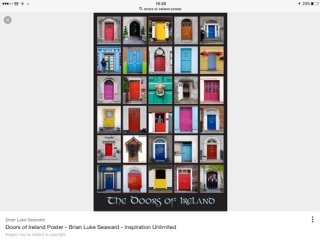 3. I thought it might be a good idea to have some bunting hung up in the entrance of the village Hall at Ticknall for the exhibition - what about paintings of Easter Eggs, about 8"x 6", let me know what you think. I am a real fan of bunting and I think it would really cheer up the entrance to the hall. The club could supply you with cartridge paper if you would paint an Easter Egg.
Happy painting,
Jean
...............................................................................................
Our Twitter account
If you are a Twitter member please look at the account and we would welcome you to 'follow'.
Any AAC relevant information please inform Richard at 'This email address is being protected from spambots. You need JavaScript enabled to view it.' who will add to the Twitter address, if appropriate
.........................................................................................
Some club members and tutors provide an art exhibition at the Castle Medical centre, Ascebi House, Burton Road.
The Art Club also displays paintings at the North Street surgery in Ashby, click on the Dr Sheperds Exhibition tab for more information.
........................................................................................
Annual Subscription rate
The Annual Subscription for the 2016/2017 season is £40. This will give free access to Monday evening and Wednesday morning painting sessions and all demonstrations.
You can download a membership form by clicking on the attachment below
The full details of the Art Club programme can be found by clicking on the programme tab at the top of the page. Non members can attend workshops ( £5 extra to the fee) and come along to the demonstrations too ( £5 per demonstration).
Welcome to Ashby Art Club
And welcome to our website!

Anyone can come along and join Ashby Art Club on any Monday evening and /or on the second and fourth Wednesday morning each month.
If you would like to paint alongside like minded people, of all different abilities, then Smisby Village Hall is the place for you. You will find a warm and friendly atmosphere - so why not give it a try.
---
DATES FOR YOUR DIARIES:
Ashby Art Club
Wednesday morning painting 9.30 am to 12.00 noon
From September 2016 the morning art club increased
to the 2nd and 4th Wednesday morning of each month.
£3.00 Charge for non-members
Dates for Wednesday sessions are as follows
Next Wed. Art - 22nd February 2017, and then
8 March 2017
22 March 2017
12 April 2017
26 April 2017
10 May 2017
24 May 2017
14 June 2017
28 June 2017
12 July 2017
26 July 2017
9 August 2017
23 August 2017
Why not come along and join us, bring your friends - non-members are welcome (£3.00 charge)